Welcome to Nolay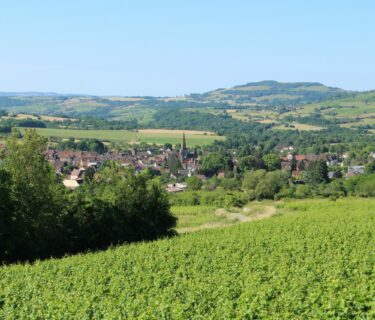 Nolay and its surroundings
Nolay, a medieval town, is located 60km from Dijon and 18km from Beaune in Burgundy, Côte-d'Or. Built on a Gallo-Roman site, Nolay was, over the centuries, a prosperous town at the crossroads of 2 economic regions: agriculture and wine. Today, it remains an attractive town, laid out around its stone-roofed market (14th century) and church (15th and 17th century). You can enjoy discovering its small medieval streets lined with half-timbered houses. An open book on history which has successfully combined with modernity while preserving a wonderful way of life.
A historic town centre
It's hidden to those just passing by in their cars, and reveals itself to those who stop and take the time to explore. United around this beautiful covered market and church, its half-timbered houses overhang Monge Square. Like a scene from a theatre, you can imagine, throughout the ages, Jacques d'Aumont and Catherine, Lady of Estrabonne, Nicolas Nolin, Lazare and Sadi Carnot, Gaspard Monge or even Canon Kir, priest from 1924 to 1928 and a great Burgundy character, inventor of the famous drink, kir.
Charming houses, the traditional rural architecture of the Hautes-Côtes is all around you, some houses dating from the Middle Ages now seeing their first-floor stores coming back to life thanks to the passion of the craftsman.
Our tips : sip a glass of Hautes-Côtes de Beaune on this square and soak up this soothing atmosphere to go back in time, and in the evening, when the ochre gives the stone walls a special light straight from Provence, follow a tour called the theatrical nights (Nocturnes théâtrales).