The Voie des Vignes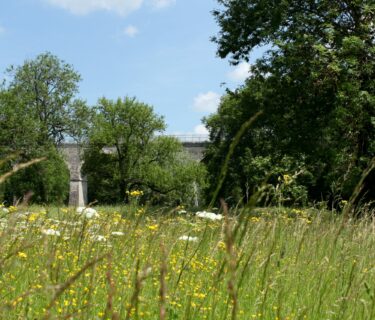 The Voie des Vignes
This superb "Voie des Vignes" follows the route of an old railroad line, where the Chagny-Etang sur Arroux line used to pass. From Nolay, you can head towards Thury, Ivry, Epinac to the west or to Santenay, Beaune and Chagny to the south/east. It's a smooth asphalt with a 2% difference in level.
This "Voie des Vignes" leads you all the way to Dijon (81 km), and is the preferred itinerary to better understand the "Climats", classified as a Unesco World Heritage Site on 4 July, 2015. Your route is punctuated by railway structures such as tunnels and viaducts, vineyard landscapes, villages nestled in the valley of the Cozanne, the minor built heritage made of vineyard huts, dry stone walls, porches, typical villages of the Côte and châteaux, it's wonderful!
But please have respect for those who work for the beauty of these landscapes, winegrowers and farmers have the right to use this route, too.
Two viaducts, the Roche à Bec and the Cormot viaducts, offer a 360° view of Nolay, the vineyards and the cliffs of Cormot, a site nationally known by rock climbers! While enjoying the panorama, admire also the beauty of these railway works. The Cormot viaduc was built between 1869 and 1870. At, 158 metres long and 18 metres high, it's a real architectural feat. You can see the Cirque du Bout du Monde, a site classified Natura 2000, where a hike followed by a picnic awaits.
All along the Cozanne Valley, from Nolay to Santenay, you follow this old railway line, lined with acacias. You'll pass the pretty little station of Paris-L'Hôpital, a tunnel and villages surrounded by green chervil. You can make a detour to visit these small charming villages, such as Sampigny-lès-Maranges, Change, Paris-L'Hôpital, Cheilly-lès-Maranges… These undulating hillsides lead you to Santenay -half water, half -wine, the town inviting you to stroll and relax. The 13th -century church of St. Jean de Narosse is open on Saturdays and Sundays in season from 3:00 to 7:00 pm.
Benches and picnic tables mean you take regular breaks and fully enjoy the experience!
From Santenay, you're quickly in Chagny via Remigny and Bouzeron, following the Canal du Centre. You'll love this route, coming cross barges and boats, until the river halt at of Chagny. If it's Sunday, take a tour of Chagny's highly colourful famous market. Further down the river, you can reach Chalon-sur-Saône, Digoin, the Atlantic, the English Channel, the Mediterranean and even the Eastern countries via the Rhine.
You can rent a classic or electrically assisted bicycle at the Nolay, Chagny and Santenay offices. It is also in these villages that you will find everything you need to refuel and repair your bike, but we do not want you to, especially since our electric bikes are equipped with increvable tires.
To ensure the sustainability of the sites you pass through, please be respectful, use the bins provided, and leave no trace of your passing. This path is well maintained and well-marked for the enjoyment of those who use it.
The Voie des Vignes in pictures