Nolay is a paradise for hikers, bikers, cyclists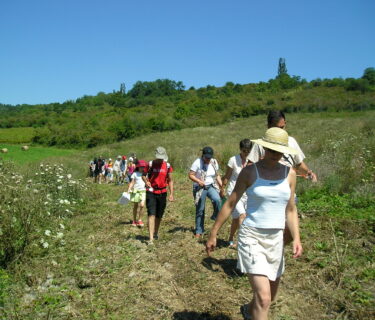 With family or friends, enjoy a walking loop of 1hr to 3hr30:
A large choice of hiking trails marked in yellow "Pays Beaunois" followed by a number is available to you. A map "Promenades en pays Beaunois" details 31 routes. These hikes are also available in the form of two more precise booklets (7.50 euros per booklet), Northern Circuits from Bouilland to Mersault and Southern Circuits from Mersault to Marranges, containing 14 maps with IGN, a description of the circuit and the specific features waiting to be discovered.
Nolay is surrounded by trails, so you can do the following loops:
–to the east: nos 16, 17, 18 (La Rochepot, Meloisey, Baubigny), no.22 (St-Romain), The trail of the rocks no.18
–to the north: nos 19, 20 (Vauchignon, Le Bout du Monde, Cormot), The world's end tour no.19
The circuit of St Antoine by the Roman road no.20
–to the south: nos 26, 27, 28 (Montagne des Trois Croix, Sampigny-lès-Maranges, Change, Paris-L'Hôpital), The circuit of the crests no.26
–to the west: nos 21, 29 (Epertully, Aubigny-la-Ronce).
The loops indicated in bold are accessible on the free app 'Balades en Bourgogne', downloadable on the Apple Store or Google Play.
Hikers and experienced sportsmen do you want to complete a long route with significant altitude difference?
If you're an experienced, sporty hiker looking,  to do a long walk with a significant difference in altitude, the sentier Jean-Marc Boivin is made for you. A 50km circuit around Nolay with 1500m of ascent, this walk is classified among the 100 most beautiful in France. This circuit on horseback in Côte-d'or and Saône et Loire can be done in one day or in a weekend, but can also be divided into shorter routes by taking the Grande Randonnée or GR paths for the returns. The route is precise, with IGN map at 1/25000. The markings are yellow and marked " Pays Beaunois " – JMB.
Nolay's lush greenery in pictures